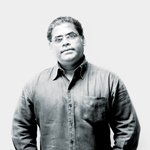 Suresh Dinakaran
Suresh is the editor of Brand Knew and brings with him a wealth of over 2 decades experience in Branding/Advertising, Media, Management Consultancy & Film making. Having worked with brands such as Stardust, London School of Economics, Bose, Volkswagen, Damac etc in multiple markets including India, UK, USA and the M East, he is the co founder of the ISD Manhattan Film Academy New York(the M East's first film training academy) and also the Co Founder of Showhow2.com, an interface that demystifies the world of gadgets & technology. He is also the creator of brand marketing concepts including UFP (Unique Feelings Proposition), BEST( Brand Energy Stimulation Treatment),CLAP( Customer Love Affair Programme) & 5C( Content, Context & Conduit leading to Customer & Commerce).
Tom Fishburne
Tom Fishburne started drawing cartoons on the backs of Harvard Business School cases. His cartoons have grown by word of mouth to reach 100,000 business readers each week and have been featured by the Wall Street Journal, Fast Company, Forbes, and the New York Times.
Tom is the Founder and CEO of Marketoon Studios, a content marketing studio that helps businesses such as Unilever, O2, Kronos, Baynote, Rocketfuel, and the Wall Street Journal reach their audiences with cartoons.
Tom is a frequent keynote speaker on innovation, marketing, and creativity, using cartoons, case studies, and marketing career to tell the story visually. The Huffington Post ranked his South-By-Southwest (SXSW) talk the third best of the conference out of 500.
Liz Goodgold
Liz is a branding and marketing guru with a world reknowned reputation for delivering whip smart branding strategies to thousands of clients and individuals every year. She consistently delivers bullet tested strategies based on her consulting work with organisations like Quaker Oats, Univision, Sharp Healthcare, ProFlowers.com and Music Match. She is also the author of several books including DUH! Marketing: 99 Monstrous Missteps you can use to learn,laugh and grow your business.
Anand Narasimha
Anand Narasimha, is Dean & Professor of Marketing at IFIM Business School, Bangalore. With over 25 years of experience in Brand Marketing, Advertising and Consulting, he describes himself as a 'Brand Mentor'.
Martin Lindstorm
The author of books like Buy.ol.ogy and Brandwashed has the following to share especially keeping in view the increasing penetration, relevance and growth of Social Media.
Ira Kalb
Ira Kalb is the author 10 books and 25 articles on topics concerning marketing. He has over 38 years of marketing and management experience having served as president and vice president of marketing for COMPAL computer systems, and a senior management consultant for Accenture. He was elected president of the Southern California American Marketing Association in 1995. He received the Golden Apple Award in 2009. He is the founder of Kalb & Associates.
Brenda Bence
Brenda Bence, MBA/CSP, is sought after on six continents both for her expertise in corporate branding and for her career-boosting, award-winning Personal Branding System. The only branding expert to specialize in helping companies and individuals make "the Corporate Brand/Personal Brand Connection™," Brenda shares cutting-edge marketing strategies to help you grow your business, as well as to take YOU™® – the Trademarked You – to new heights. She is the author of several award winning books including Smarter Branding
Maria Elena More
Maria is a Marketing Strategist from the Dominican Republic who seeks to view the way businesses connect with people through the power of emotional branding. She's worked with companies such as IE Business School and Mercedes-Benz Dominican Republic, agency TBWA as well as a consultant for the University of Miami, Universidad Iberoamericana (UNIBE), and Archivos de Arquitectura Antillana, among others. She is now the Marketing Manager of tPago at GCS Systems. She also runs a firm by the name of More Than Branding based out of the Dominican Republic.